So how could anyone have put up signs such as these ones below? (click here)
what's the meaning of "learn"?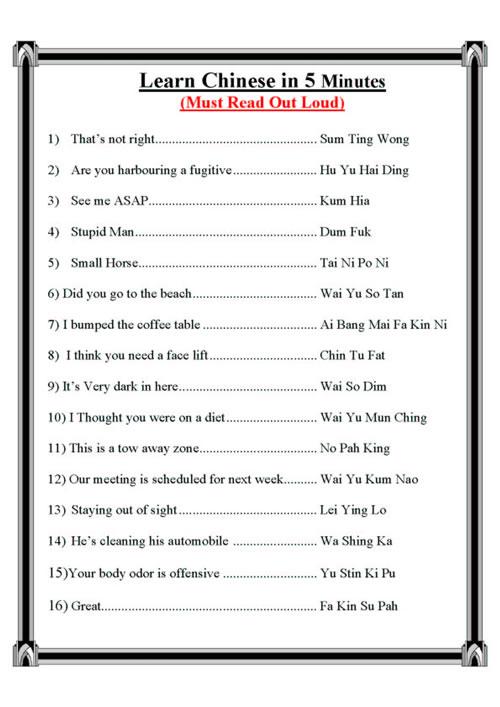 Seen during a conference:
For anyone who has children and doesn't know it, there is a day care centre on the 1st floor
This sign above (which, by the way, is an actual sign, similar to those below that have been spotted in different parts of the world) are just a few examples of how small mistakes in English can lead to a big difference in meaning. Just imagine the poor maid in the office mentioned in the fourth example! Or the wives in the second-hand shop situation! (to find mor funny signs, click here) that matter)?! Then, of course, there is the classic mistake in the top page example! Ask any mother who has given birth whether she knows that she has had a child!
In an office:
TOILET OUT OF ORDER....... PLEASE USE FLOOR BELOW
In a Laundromat:
AUTOMATIC WASHING MACHINES: PLEASE REMOVE ALL YOUR CLOTHES WHEN THE LIGHT GOES OUT
In a London department store:
BARGAIN BASEMENT UPSTAIRS
In an office:

WOULD THE PERSON WHO TOOK THE STEP LADDER YESTERDAY PLEASE BRING IT BACK OR FURTHER STEPS WILL BE TAKEN


In an office:

AFTER TEA BREAK STAFF SHOULD EMPTY THE TEAPOT AND STAND UPSIDE DOWN ON THE DRAINING BOARD





Outside a secondhand shop:

WE EXCHANGE ANYTHING - BICYCLES, WASHING MACHINES, ETC. WHY NOT BRING YOUR WIFE ALONG AND GET A WONDERFUL BARGAIN?




Notice in health food shop window:

CLOSED DUE TO ILLNESS
Spotted in a safari park:

ELEPHANTS PLEASE STAY IN YOUR CAR





Seen during a conference:

FOR ANYONE WHO HAS CHILDREN AND DOESN'T KNOW IT, THERE IS A DAY CARE ON THE 1ST FLOOR





Notice in a farmer's field:

THE FARMER ALLOWS WALKERS TO CROSS THE FIELD FOR FREE, BUT THE BULL CHARGES.





On a repair shop door:

WE CAN REPAIR ANYTHING. (PLEASE KNOCK HARD ON THE DOOR - THE BELL DOESN'T WORK).

Now that you've smiled at least once, it's your turn to spread the stupidity and send this page to someone you want to bring a smile to (maybe even a chuckle). We all need a good laugh, keep on smiling.