Beyonce B'day (2006)
UPGRADE U
Throughout the song, Beyoncé name-check
a list of goods from prestige brands, companies, and personalities:
Lyrics
: "Partner, let me upgrade you/ Audemars Piguet you"
They call shots, I call audibles/ Jacob the Jeweler, baubles/ Lorraine Schwartz oughta do"
"Switch your necktie to Purple Labels"
"Dimples in ya necktie/ Hermès briefcase"
"Cartier tie clips/ Silk-lined blazers/

Diamond-cream facials

, VVS cufflinks/ Six-star pent suites" .....
http://en.wikipedia.org/wiki/Upgrade_U#Music_structure.2C_theme_and_lyrics
to understand the text:
right now all her fans in the palm of her hands like a string of pearls with her love letter to luxury, the song "Upgrade U."
http://www.mtv.com/news/articles/1548533/guide-beyonce-jayzs-upgrade.jhtml
the Catalan Connexion being: Natura Bissé Diamond cream facials, did you know?
Keep reading: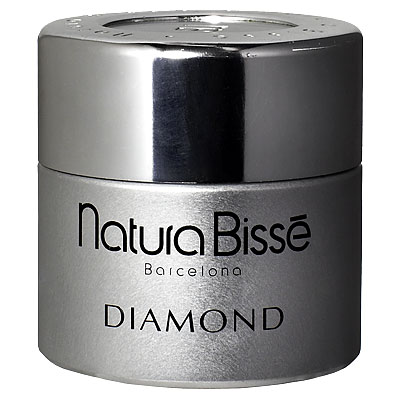 En conjunto, NATURA BISSÉ posee cerca de 300 referencias de productos cosméticos de tratamientos faciales y corporales.
En el año 2000, Ricardo Fisas inaugura nueva sede y fábrica en el Parque Tecnológico del Vallés (Barcelona), donde se ubican sólo las empresas con la tecnología más puntera.
Las actuales instalaciones albergan una moderna y actualizada planta de fabricación que permite ampliar el centro de Investigación y Desarrollo y potenciar la capacidad productiva, aspectos claves de la compañía.
Un porcentaje muy elevado de su facturación se destina a I+D+i (investigación, desarrollo e innovación) permanente de nuevas formulaciones que permitan máximas concentraciones de activos, nuevos ingredientes altamente eficaces, nuevas texturas y todo ello sin límite en el coste.
Dentro de la gama de tratamientos cosméticos más exclusivos y como resultado del I+D+i, NATURA BISSÉ crea, ese mismo año, un nuevo concepto en cosmética, DIAMOND CREAM, considerada como el tratamiento Global Anti-edad más selecto y eficaz que, poco a poco, verá ampliada su gama de productos con la creación de DIAMOND COLLECTION, la "joya" para la piel, con un éxito de ventas sin precedentes.
Años más tarde, en 2003, nace la línea INHIBIT COLLECTION, la alternativa cosmética frente a los tratamientos medico-estéticos basados en las micro-inyecciones.
En 2004 Ricardo Fisas da paso a la apertura de su segunda filial, ubicada en México, y en 2007 a una sucursal en Dubai, donde NATURA BISSÉ es considerada una de las marcas de belleza más lujosas y más codiciadas del mundo.
En el 2008, NATURA BISSÉ lanza al mercado THE CURE, la crema hidro-reparadora y desintoxicadora más novedosa actualmente en el mercado, completando así la línea de sus productos de gama alta.
Centrada inicialmente en el mercado profesional de los Institutos de Belleza, la empresa se ha apuntado a uno de los grandes casos de éxito de la cosmética española. Su fundador ha tenido que ir incluso a Harvard a explicar sus métodos, en especial el de como le ha sido posible a una pyme de Barcelona codearse con mitos como Estée Lauder, Dior, Sisley o La Prairie, estar en casi 30 países y exportar el 55% de su producción.