Researchers who study the friendly bacteria that live inside all of us are starting to sort out who is in charge—microbes or people?
Biologists once thought that human beings were phys­iological islands, entirely capable of regulating their own internal workings. Our bodies made all the enzymes needed for breaking down food and using its nutrients to power and repair our tissues and organs. Signals from our own tissues dictated body states such as hunger or satiety. The specialized cells of our immune system taught themselves how to recognize and attack dangerous microbes—pathogens—while at the same time sparing our own tissues.
The real size of things to come... here
Epidemiological research:
Some real research conducted by real rocket scientists, John Cannarella and Joshua A. Spechler, from Princeton's Department of Mechanical and Aerospace Engineering in their article,
"Epidemiological modeling of online social network dynamics".
Facebook's future, the research
Cannarella and Spechler used epidemiological models to explain social media user behavior where adoption was analogous to infection and abandonment was analogous to recovery.
Their model suggests Facebook has already reached the peak of its popularity. They conclude that Facebook has entered a decline phase, as shown by a downward trend in search frequency since 2012. Extrapolating the best fit model into the future, they predict Facebook activity will rapidly decline over the next few years.
Facebook concerned with health:
And ... Facebook hits back,
'Princeton University will shut down'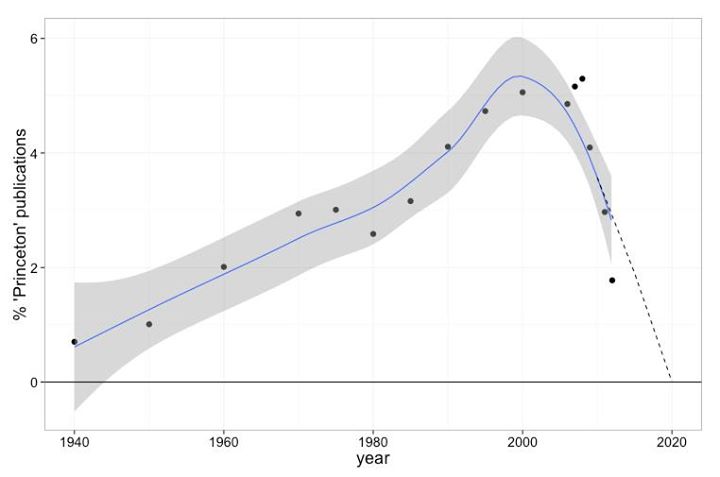 Facebook data scientist Mike Develin has decided to use similar methods to give Princeton a taste of its own medicine and "prove" that Princeton's enrollment will crash all the way to zero in less than a decade.
Facebook schools Princeton: The uni will have no students by 2021, claims platform after being described as an infectious disease

:

Facebook has hit back at a study from Princeton which suggested that the social media platform would lose 80 per cent of its users by 2018 in a tongue-in-cheek blog posts which suggests the university.

(Thedrum.com)

Read News
Princeton Study Saying Facebook Is Doomed Gets Destroyed In Hilarious Fashion By A Facebook Data Scientist (FB)

:

Researchers at Princeton made news this week by proclaiming the impending doom of Facebook. They concluded that Facebook will lose 80% of its peak users between 2015- 2017. Naturally this research re.

(BusinessInsider)

Read News
Facebook mocks 'infection' study, predicts Princeton's demise

:

A study by researchers at Princeton University made waves this week with its prediction that Facebook could lose 80 percent of its users by 2017. Facebook has struck back with a post using similar statistics.

(NBCNews)

Read News
Facebook Study Finds That Princeton Is The One On Brink Of Extinction

:

A new study shows that Facebook isn't in danger of extinction. But maybe Princeton is. A Facebook data scientist released his own analysis today to poke at a recent study out of Princeton that.

(Adweek.com)

Read News
Facebook gives best possible response to ridiculous Princeton study

:

Earlier this week we highlighted a study from Princeton that used Google search trends to predict that Facebook would lose 80% of its users by 2017. The study seemed so flat-out ridiculous to us t.

(Yahoo!News)

Read News