His is a truly remarkable story:
Tsutomu Yamaguchi, engineer and atomic bomb survivor:
born Nagasaki 16 March 1916; died Nagasaki 4 January 2010.
How I survived Hiroshima – and then Nagasaki
Tsutomu Yamaguchi must be one of the luckiest people on the planet. In his only interview with a British newspaper, he tells David McNeill about the moment when the same white light filled the room again
Yamaguchi had been recognized as "hibakusha," translated as "explosion affected people," by the Japanese government.
There are over 200,000 officially recognized hibakusha in Japan, and they are reportedly entitled to a small monthly allowance from the government. Many still suffer from exposure to radiation.
In March 2009 - nearly 64 years after the bombings – the Japanese government certified that Yamaguchi was indeed targeted twice.
"My double radiation exposure is now an official government record,"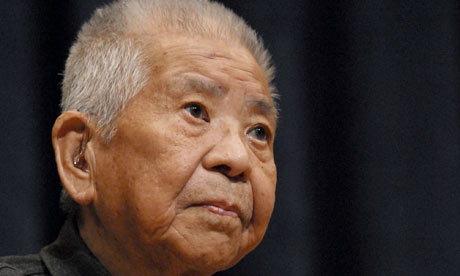 Despite being 3km (just under two miles) from Ground Zero,
the blast temporarily blinded him,
destroyed his left eardrum and
inflicted horrific burns over much of the top half of his body.
The following morning, he braved
another dose of radiation as he ventured into Hiroshima city centre, determined to catch a train home, away from the nightmare.


But home for Mr Yamaguchi was Nagasaki, where two days later the "Fat Man" bomb was dropped, killing 70,000 people.
In a bitter twist of fate, Yamaguchi was again 3km from the centre of the second explosion. In fact, he was in the office explaining to his boss how he had almost been killed days before, when suddenly the same white light filled the room. "I thought the mushroom cloud had followed me from Hiroshima," Mr Yamaguchi said.