Many ferociously stubborn wills were needed

From Stone wall -1969 to Audre Lorde - NYC 2014
Any majority is basically a conglomerate of minorities. Each minority shows a variety of situations in which minorities live.
Some live together in well-defined areas, separated from the dominant part of the population. Others are scattered throughout the country.
Some minorities have a strong sense of collective identity and recorded history; others retain only a fragmented notion of their common heritage.
A) Remember Harvey Milk?


Milk, among the first openly gay elected officials in the country, had a profound impact on national politics, and his rich afterlife in American culture has affirmed his status as pioneer and martyr.
Sean Penn, center, portrays Harvey Milk,
The murderer, Dan White, was convicted of voluntary manslaughter and sentenced to a relatively brief jail term, sparking a demonstration and riot by gay supporters of the murdered men.
B) Begin at the beginning. Stonewall. The NYC riots -1969
June 28 marks every year the anniversary of

the Stonewall riots

, the event largely regarded as a catalyst for the LGBT movement for civil rights in the United States. The riots inspired LGBT people throughout the country to organize in support of gay rights, and within two years after the riots, gay rights groups had been started in nearly every major city in the United States.

At the time, there were not many places where people could be openly gay. New York had laws prohibiting homosexuality in public, and private businesses and gay establishments were regularly raided and shut down.
A police raid on the Stonewall Inn in New York City in 1969 sparked a riot and became the genesis of the modern gay rights movement. Veterans of the riots, along with author David Carter, recount what happened the night history was made.


C) The Boys in Blue:
Women's Challenge to the Police
Published by
Virago, London, 1989
Synopsis:
The British police force
remains an overridingly white and male institution. Yet in times of crisis it is to this police force that women must look for protection or redress. This book takes a look at many areas of policing in relation to women in Britain and Northern Ireland today.
It includes contributions from women personally affected and those working in a wide range of fields: feminist and anti-racist campaigns and support services, the peace movement, local government police monitoring, as well as lawyers and feminist researchers. What happens when girls and women seek police help in cases of rape, child abuse, domestic and racial violence?
What about those who are subjected to unwanted police attention, which could often be labelled harassment - as political activists, lesbians, black women, Irish and Greenham women, as women coming up against the immigration law or the Mental Health Act, or women working as prostitutes?
The final section examines closely who the police actually are and considers the changing balance of police powers in the light of recent legislation.
D)
Audre Lorde (1934-1992)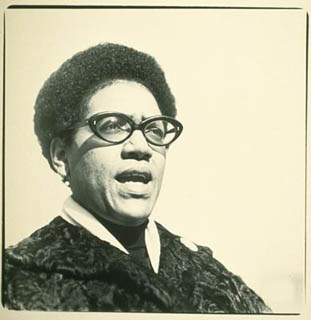 The Black feminist, lesbian, poet, mother, warrior
5 reasons why the Audre Lorde Project supports in 2014

the #Not1More Campaign
to demand that President Obama grant the broadest administrative relief possible and implement an immediate halt to deportations!
1. We stand in solidarity with Lesbian, Gay, Bisexual, Two Spirit, Trans,
and Gender Non-Conforming People of Color migrants, undocumented people,
people in detention, low-wage workers, and all Indigenous-identified
people, and honor the sovereignty of the First Nations on whose land we now
see the US attempt to enforce arbitrary borders.


2. We oppose current systems of policing, surveillance, and immigration
enforcement that use racist, transphobic, homophobic, ageist, classist, and
ableist tactics to falsely accuse, terrorize, and target communities
perceived as threats in order to maintain and further build race and class
hierarchy in the United States.


3. We demand the abolition of all prisons and immigrant detention centers,
where transgender and gender-non conforming people are forced into solitary
confinement.


4. We oppose the Secure Communities program, the 287(g) program, the
Criminal Alien Program, and all ICE ACCESS agreements that allow local law
enforcement to act as agents of immigration. We oppose the use of ICE
holds, Operation Streamline, and any enforcement provisions that build more
walls and increase collaboration between local police and ICE.


5. We demand an end to the displacement of our communities and the
militarization of our lives, from the increased policing of communities of
color in the US to the current apartheid in Gaza and the Israeli-occupied
territories.


#Not1More
More about the campaign: On August 2nd, 2014
Southerners On New Ground [SONG], Transgender Law Center [TLC] and many others are joined forces in Washington, DC, to amplify the national call to demand that President Obama grant the BROADEST ADMINISTRATIVE RELIEF possible and implement an immediate halt to deportations!