Husein talks books: from a answers (1995) to questions (2015).
How to become a reviewer (1:12).
TASK 1.

Take notes on this reelnews, then check with the text below.
Published on Oct 13, 2015



TEXT:
The American president interviewed the Pulitzer-winning novelist Marilynne Robinson in a lengthy piece which has just been published by the literary magazine, taking the author of Gilead through topics from Christianity to democracy.
He told Robinson, who he has known since 2012 when he presented her with the National Humanities Medal, that "one of the things that I don't get a chance to do as often as I'd like is just to have a conversation with somebody who I enjoy and I'm interested in … and so we had this idea that why don't I just have a conversation with somebody I really like and see how it turns out. And you were first in the queue."
Informing Robinson that her creation John Ames, a pastor from Iowa, is "one of my favourite characters in fiction", Obama asked her "how your interest in Christianity converges with your concerns about democracy".
He also inquired how, given the importance of faith to Robinson, "at least in our democracy and our civic discourse, it seems as if folks who take religion the most seriously sometimes are also those who are suspicious of those not like them"?
Gilead

(from The Guardian)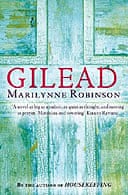 Gilead is a small American town in Iowa in 1956. John Ames, a preacher in his mid-70s whose heart is failing him, is writing letters to his only child, now aged six, so that when the boy reaches an adulthood his father won't see, he'll at least have this posthumous one-sided conversation: "While you read this, I am imperishable, somehow more alive than I have ever been."

The book describes an era when unthinkable things were happening but were themselves about to change unimaginably, for the better. It takes issue with the status quo by being a message, across generations, from a now outdated status quo. "What have I to leave you but the ruins of old courage, and the lore of old gallantry and hope?" Things can and will change; they have before, and they will again.
TASK 2.

For a real review,
visit The Bookchemist view (05:17).

TASK 3. A young Barack Obama discusses his memoir
"Dreams from My Father" in this 1995 interview (26:16).
ROUNDING OFF. Read the two links below.
The President

: Well, as you know—I've told you this—I love your books. Some listeners may not have read your work before, which is good, because hopefully they'll go out and buy your books after this conversation.
(Read the rest of the interview and listen to the audio podcast on i-Tunes there)
BIT 1_
Precious few are the moments when brilliant, cult-y fiction writers ascend to the all-important status of Trending Topic.
"This is an experiment," the president says at the outset. Typically when he travels to a place like Des Moines, Iowa, where Robinson lives, he must immediately make a speech, attend a town hall, visit a factory, or do some other similarly scripted thing, Obama explains. "One of the things I don't get a chance to do as often as I'd like," he says, "is just to have a conversation with somebody who I enjoy and I'm interested in."
BIT 2_
Robert Silvers, editor of
The New York Review of Books
, explains to VOGUE how exactly he got the President of the United States to assume the role of book critic.
It's very simple. The White House rang me and said that President Obama had been interested in the work of Marilynne Robinson. (...) And so it emerged that he was thinking of having a conversation with her when he next gets to Iowa, and would we be interested in this conversation? And I said yes!