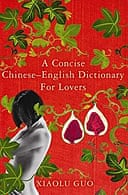 A Concise Chinese-English Dictionary for Lovers
by Xiaolu Guo - The Guardian - review
Chatto & Windus £12.99, pp368
I not Chinese. I British. I prefer read book with sentences not made look like broke. I prefer writer who not pretend not speak English when actually I think she speak English very goodly.
If you think this is annoying in a review, you might want to think carefully before picking up A Concise Chinese-English Dictionary for Lovers.
Heathrow airport is Heathlow airport. Fizzy water is filthy water. A rucksack is a rocksack. There are lots of points that Xiaolu Guo is trying to make with her use of language: about Chinese and British culture, about the impossibility of perfect communication between two people, about belonging and not belonging. But the cod-pidgin is not so much grittily authentic as a stagy literary device that never really convinces, and it's no coincidence that as Z's English improves so does the novel.
Xiaolu's book is original, humorous, and wise. Within imperfect language one can find many perfect truths of the human condition. The misunderstandings are really the understandings of the differences of the heart between men and women.
Amy Tan, author of The Joy Luck Club
But I at neither time zone. I on airplane.


I not met you yet. You in future.

I worry bending passport bring trouble to immigration officer, he might doubting passport is fake and refusing me into the UK, even with noble word on the page:

Below is ocean. I from desert town. Is the first time my life I see sea. It look like a dream.

As I far away from China, I asking me why I coming to West. Why I must to study English like parents wish? Why I must to get diploma from West? I not knowing what I needing. Sometimes I not even caring what I needing. I not caring if I speaking English or not. Mother only speaking in village dialect and even not speaking official Mandarin, but she becoming rich with my father, from making shoes in our little town. Life OK. Why they want changing my life?

And how I living in strange country West alone? I never been to West.

I not having life in West. I not having home in West. I scared.

I no speaking English.

I fearing future.
A ravishing reviewer -Linda B. at Amazon:

Zhuang gives up her name because English people cannot pronounce it, calling herself Z, and boards with a Chinese family.

As Z becomes more proficient in her new language the book offers insight into her cultural point of view. Finding her lover selfish, Z observes that the Chinese are not encouraged to use the word "self" since it is the antithesis of collectivism and the self is the enemy of the communist party. On a holiday to Wales the profound silence saps her: "It doesn't matter if one speaks Chinese or English here; it doesn't matter if one is mute or deaf. Language is not important anymore.
Another three comments:

reader_A) the book starts in pretty dreadful English and every chapter has a specific heading such as in a dictionary. There are very funny scenes in the book for example when Z arrives in London: "Sign in front of queue say: ALIEN and NON ALIEN. I am alien, like Hollywood films Alien, I live in another planet, with funny looking and strange language."
reader_B)

When I first started to read this I was put off by the way it has been deliberately written in bad English. However once I got to grips with this and realised it was really a necessary and integral part of the novel I began to enjoy it much more, finding it both witty and charming.

reader_C)

The book is definitely not worth the new purchase price (I didn't buy it new anyway). I won't be coming back to this for successive reads of this text. $1 plus shipping is what I spent, and that's about what it is worth
For future readers, my fav Chapter (14). Click below



Xiaolu Guo, Granta Best Young British Novelists 2013
Xiaolu Guo
, a bilingual novelist and filmmaker, received her MA at Beijing Film Academy and UK's National Film & TV School. She published 6 books in Chinese before moving to London in 2002. Since then she has written her novels in English, notably:
A Concise Chinese English Dictionary For Lovers (2007),
20 Fragments of A Ravenous Youth (2008),
UFO In Her Eyes (2011)
Lovers in the age of indiference (2011)
I am China (2014)
Her feature film
She, A Chinese ()
received the Golden Leopard Award at the Locarno Film Festival 2009. Her documentary
Once Upon A Time Proletarian (2009)
received the Grand Prix Geneva 2012, has shown in Central Pompidou Paris, MoMA New York and toured around the world.