HOUSES FOR ALL
Documentary by Gereon Wetzel, 52 Min., Germany 2013
Shortly after the real estate bubble had burst in the United States Spain was struck by the same fate. In total 3,6 million housing units - ranging from completed houses to ruins or half developed lots - are facing an uncertain future. How will man and nature reclaim those spaces?
A bus driving school … on the empty streets of a ghost town, … a guardsman... a shepherd herding his flock between the ruins, English tourists that play golf on a totally abandoned course and illegal immigrants that settle in the naked skeleton of an high rising apartment building.
CASAS PARA TODOS (Houses for all) deliberately avoids a journalistic approach. Neither is it important where the filmed places are actually located nor what specific reasons were responsible for their downfall. The idea is that all places share a common history which is one of a society that is uncontrollably longing for status.
Murcia's credit-fuelled building spree ends in rash of repossessions, empty villas and roads to nowhere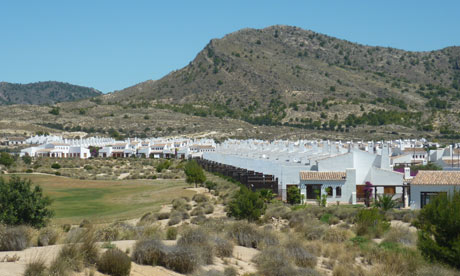 They were once
Europe
's most ambitious holiday homes projects, vast developments financed by supersized loans from
Spain
's cajas and banks. The properties were widely advertised on television in the UK to entice investors chasing the good life in the sun and hoping to profit from the property boom.
But five years on, the Polaris World holiday dream of sun-drenched apartments overlooking golf courses designed by Jack Nicklaus has turned sour. Apartments that once sold for €200,000 (£160,000) are struggling to fetch €60,000. The last resorts built are now ghost villages.
Welcome to Murcia, the very heart of Spain's property boom and bust, where repossessions are sweeping the region and where losses are straining balance sheets of almost every Spanish bank.