7 headlines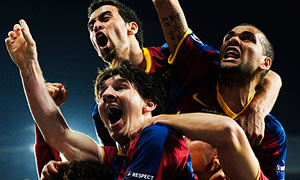 2.

Masterful Messi lights up Bernabeu clash
3

.

A Messi ending for Mourinho's Madrid
4.

Vintage Lionel Messi Silences the Crowd
5.

Lionel Messi capitalises for Barcelona as Real Madrid see red again
Inspiring beauty triumphed over beastliness in the end last night
7.

Messi magic conjures crucial away goals

as Mourinho and Pepe see red in the Bernabeu
Lost for words?! Read this:
The Argentine star then produced a sensational moment of pure football when he waltzed past four Madrid players before touching the ball beyond Iker Casillas to send the travelling support into raptures.
Messi picked up a pass barely inside the Real half and proceeded to beat no less than five defenders before sending a low rolling shot past Casillas into the back of the net. It was an extraordinary individual effort and well worthy of winning a tie.
Messi was not finished and struck a brilliant second with three minutes remaining to leave Barca with one foot in the final. The Argentina ace dribbled past several Madrid defenders at pace before sliding a right-footed shot past Casillas.
Messi then netted a wonderful second three minutes from time when he weaved his way into the Real penalty area and slotted past Casillas
what else?
To read about describing him April 2010,
read this
on headlines (30/11/10)
on MOUch Ado About Nothing
The day before:
guardian news
The question now is whether Mourinho will feel that he has won the mental battle, dragging Guardiola into territory that is not his own, or if Guardiola will feel a release at having at last had his say. And what a say it was. The days of a respectful silence, of turning the other cheek, are definitively over. This was more like the aggressive weigh-in before a prize fight, complete with an air of "you and me outside".
Mourinho had pricked Guardiola's pride once too often by accusing him of complaining about referees who get decisions right. It was an accusation that Guardiola, normally so measured, was not prepared to let pass – the last straw after a year that has been a war of attrition. Guardiola was finally drawn into battle. "
He said more than "hey". Sitting down in the press room at the Santiago Bernabéu, he asked which of the gathered cameras was "Mourinho's camera" and began.
"Tomorrow at 8.45 we will play a match on the field," Guardiola said. " Outside of the field, he has won the entire year, the entire season and in the future [it will be the same]. He can have his personal Champions League outside the field. Fine. Let him enjoy it, I'll give him that. But this is a game. When it comes to sport we will play and sometimes we will win, sometimes we will lose. We are happy with smaller victories, trying to get the world to admire us and we are very proud of this.
"In this room [Real Madrid's press room], he is the chief, the fucking man. In here he is the fucking man and I can't compete with him. If Barcelona want someone who competes with that, then they should look for another manager. But we, as a person and an institution, don't do that. I could talk about [Olegario] Bequerença [the referee from last season's
Guardiola worked with Mourinho at Barcelona but considers their relationship to be shattered by this.
I always thought that when people didn't understand me, it was because I had explained myself badly, but now I don't. I said the referee [in the cup final] had been smart and very attentive. I said it was right. I pointed out simply that the result can be down to small things, that's all. It was not a complaint. After victory I congratulated Real Madrid and that is what Barcelona does. We congratulated RM for the cup that they won on the field against a team that I represent proudly."
Asked if this was just a tactic, Guardiola replied: "What? You think my players will run around more because I looked for Mourinho's camera?"